Harmonics
Natural Harmonics
Natural harmonics are overtones of an open string, divided by light pressure on a node, commonly one-half, one-third, one-fourth, or one-fifth of the string's length. The pitch that sounds is notated, and a small "0" is placed over the note. If a particular string is to be used, its name is indicated (i.e., "suI G" or "suI D").

FIGURE 2.3 Example of natural harmonics notated
The following table shows the first four harmonics of open strings on the violin, viola, cello, and double bass.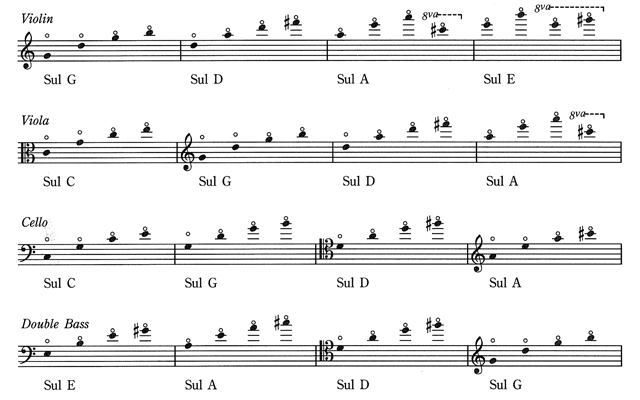 FIGURE 2.4 Table of natural harmonics
Artificial Harmonics
Artificial harmonics are overtones of stopped or fingered pitches; touching the string a perfect fourth above the stopped note produces a pitch two octaves above the stopped note.

FIGURE 2.5 Example of artificial harmonics notated